•

In February 1961, Larry Wooddell, the superintendent of KSU's™ 500 acres, and Biff Staples, a Davey Tree expert, ventured to Ontario, Canada to obtain 10 cages with black squirrels. Both men worked with the Canadian Wildlife Service and American and Canadian Customs for permission to move the squirrels.
• A second trip was made in early March in 1961 to a London, Ontario Park to obtain more squirrels.
• By 1964, the Kent Record-Courier observed that there were up to 150 squirrels in the area.
•When first released, the large, black-spiked squirrels were frequently mistaken for skunks.
• No similar concentrations existed in the central and eastern parts of Ohio prior to 1961. This was changed when Larry Wooddel & Biff Staples brought back the London Ontario black squirrels.
• Today they own the campus and the squirrels have been spotted in places such as: Warren, Cleveland, Barberton, Akron, and Canton.
•Russell Foldessy, Superintendent of KSU™ grounds, says "They don't hurt anything, in fact the rabbits and chipmunks are harder on plants and in making holes in the ground."
• An annual Black Squirrel Festival is held each fall at KSU™ featuring performers, black squirrel photo and drawing contests, an organizations fair, crafts displays, and a 4.2 mile Black Squirrel Run.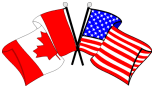 London, Ontario is known as the
" Forest City" and  Kent, Ohio is known as the "Tree City"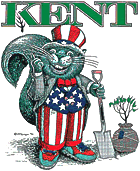 Logo used with permission from Artist: Kenneth McGregor www.artarmory.com

Black Squirrel Links Kent State University
™

& Kent Ohio
In 1961 ten Black Squirrels from London were exported to Kent State University
An annual Black Squirrel Festival is held each fall at KSU™ featuring performers, Black Squirrel photo and drawing contests, a fair, craft displays, and a 4.2 mile Black Squirrel Run
London's connection to the Black Squirrels of KSU™ have even inspired a song, the Black Squirrels Of London
Kent Ohio could be named the sister city of London, Ontario

London, Ontario is known as the " Forest City" and Kent, Ohio is known as the "Tree City." We share the same squirrels and a similar motto!

In Kent they are going wild over our squirrels. There is a Black Squirrel Pub, Annual Black Squirrel Festival, Black Squirrel Music Inc, Black Squirrel Gallery, Black Squirrel Radio Station, Black Squirrel Woodworking, Black Squirrel Books, the Black Squirrel Classic race, and even the Kent State campus police have adopted the black squirrel as their safety symbol.

The list

goes on and on!Please view the

road trip

to Kent, Ohio and KSU™ by Victoria-Park.com creator Ric Wallace: