LUCKY the accountant and a whiz with spreadsheets at LotterySquirrel.com decided to help people dream about what a Lotto MAX $50 Million dollar win could earn in interest.

Just imagine getting 4% on the principle and making $2,000,000 in interest for just having the money in the bank for a year. At 4% you would be making about 6 cents for every second in a 24-hour period totaling $5,479.45 a day or $38,461.54 for a week. Imagine making in one week what someone would make for a full year of work.
Advertisement
King Lucky is featured in front of Wallace Castle
An eccentric relative of LUCKY's built this castle back in the 80s. Local legend says if you feed squirrels peanuts near the castle LUCK will follow.
Is the Lotto MAX ticket cost of $5.00 worth a chance at a really cool life style? The gang at LotterySquirrel.com think so. Playing as a group is a better way to increase your chances without spending more of your money.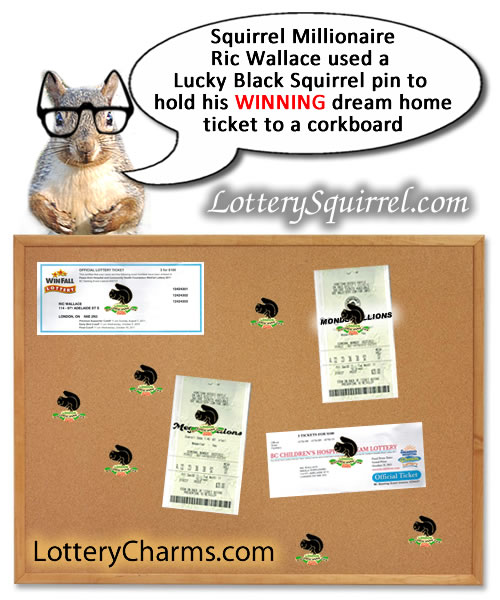 A
Lucky Black Squirrel
(Lottery Charm®) pin was used to hold the winning grand prize ticket for the lottery (previously known as
Dream Of A Lifetime Lottery
) on a corkboard in the office of LotteryCharms.com® creator Ric Wallace.