At the White Rock Beach Gallery (Waterfront Promenade Gallery) we meet people from all over the world. This nice lady with a GREAT smile from Seattle, WA loves squirrels and is now an Official White Rock Beach Goodwill Ambassador. The gang at White Rock Beach are fans of Seattle, WA.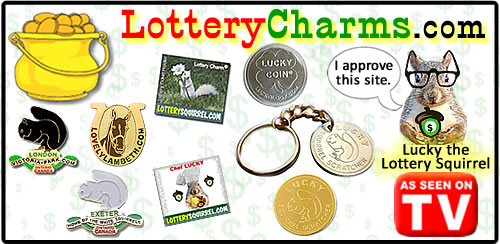 A Lucky Black Squirrel (Lottery Charm®) pin was used to hold the winning grand prize ticket for the lottery (previously known as Dream Of A Lifetime Lottery) on a corkboard in the office of LotteryCharms.com® creator Ric Wallace.
Being a White Rock Beach Goodwill Ambassador is something she can tell the customs agents at the border when they ask for her passport. LOL. We are looking into whether any laws would be broken if we stamp peoples' passports as an Official White Rock Beach Goodwill Ambassador. Sugar-toes told Lucky, "Don't be nuts – you could got to jail!" LOL.
This lady had purchased a Lucky White Squirrel pin at Windows on the Water Gallery Ltd. 14971 Marine drive, White Rock BC V4B 1C3. Lucky was so happy to talk this lady's ear off about LUCKOLOGY and Squirrel LUCK. Sugar-toes said, "You have to compensate her for all the time she lost," so we gave her a LUCKY White Squirrel postcard to go with her White Squirrel pin she bought.
I think she will be listing LUCKOLOGIST on her resume or bio. Lucky blew her away with his stories, and showed her photos of checks, a house, car, etc on lotteries he has won and even showed her some of the 12+ videos of newscasts and TV shows from Canada and the USA on his iPad. If she comes back to White Rock Beach, Lucky says now she will be ready for Luckology 102.

Priscilla, shown below, from Windows on the Water Gallery knows more on the LUCKOLOGY story and they carry all the LUCKY pins, coins, book and more.
If you are interested in LUCKOLOGY and cannot make it to beautiful White Rock Beach, BC CANADA you can purchase these ebooks and can be reading in minutes anywhere in the world.
The 3 Ps of Winning or Success
Excerpted from the The Luckologist's Guide for Creating, Tracking & Forecasting Your Luck eBook:

Belief + Attitude + An Item of LUCK = Results on just about anything
(for some cool items of LUCK check out the Lottery Charm® site)
To win on the lottery – just add a ticket or ballot.
From the view of a Luckologist & photographer (myself), here are the 3 Ps of winning or success:
Picture It
Picture what you want, need or desire. The dream home we won, we took several high res mental pictures, not just one.
A cheap camera -low megapixel camera will take a fuzzy picture and give fuzzy results.
When I take a mental picture, I use a 100+ mega pixel image – lots of detail.
Process It
To process a picture you need a camera with either film or a memory card. After you take the picture, the film has to be developed or digital image transferred to a computer, so you can see it or printed out on photographic paper. You can adjust things such as cropping, color, size, etc.
To win the lottery you need a ticket, ballot, etc. combining it with the mental picture you create in your mind. Adding an item of luck is a tangible item you can use to connect the two. Then process the dream into a memory (an affirmation). A memory is a past tense of something that already happened. The dream home I won, I had already lived the experience weeks before the win. When the hospital called to tell me I won, I was simply replaying a memory or a recording.
Pick It Up
This the final part: claim your prize, win, or whatever you imagined. I have done this countless times. Time to picture something else.
Advertisement
The Lotto Dream eBook is a FREE Lottery eBook.

White Rock Postcard Photographer Ric Wallace - Mr White Rock on Shaw TV
http://shawtv.com
|
http://shaw.ca
Tiffany Gurden
meets up with local photographer Ric Wallace to look at his postcard photography work.
These are some of the current White Rock Beach & area postcard retailers:
NOTE: Some retailers will have limited postcard selections due to space.
Tall 40 pocket postcard rack retailers with largest selections:
Save On Foods (Semiahmoo Shopping Centre) 1641-152nd Street, Surrey, BC V4A 4N3
Buy Low Foods 1405 Johnston Rd, White Rock BC V4B 3Z4
Whitby's Books and Gifts 14877 Marine Drive, White Rock BC V4B 1C2
Mossy's Beachmart, 1117 Vidal Street, White Rock BC V4B 3T4
Sunnyside Evergreen Pharmacy 2397 King George Blvd.Surrey BC V4A 5A4
White Rock Pharmacy,

102 – 1440 George St.,

White Rock

BC

V4B 4A3 (TWO 20 pocket racks at this location)
Seaside Supemarket Ltd., 1515 Johnston Rd, White Rock, BC V4B 3Z6
80 pocket postcard rack retailers with the complete collection of White Rock Beach postcards: ARTographer Ric Wallace will have a 10′ x 10′ tent set up west of the
White Rock Museum
.
This is the
ONLY location
you can see all 80 White Rock / South Surrey postcards on display at the same time (even the winter and Christmas postcards - weather and time permitting).